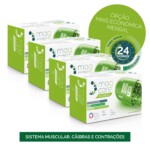 Description
MagCare – What is it?
High bioavailability magnesium.MagCare is designed for correct Magnesium supplementation to ensure the Nutrient Reference Value (VRN). MagCare is composed of a metal oxide formed by magnesium and oxygen, being typically considered the ideal source for the correction of magnesium deficiency.It has been specially developed for situations of physical fatigue, muscle fatigue, cramps, irritability and brain fatigue. MagCare is

MagCare is well tolerated and its formulation has also been designed for the particular context of pregnancy and breastfeeding.