GestaCare Lactaçao
Postpartum Recovery and Breastfeeding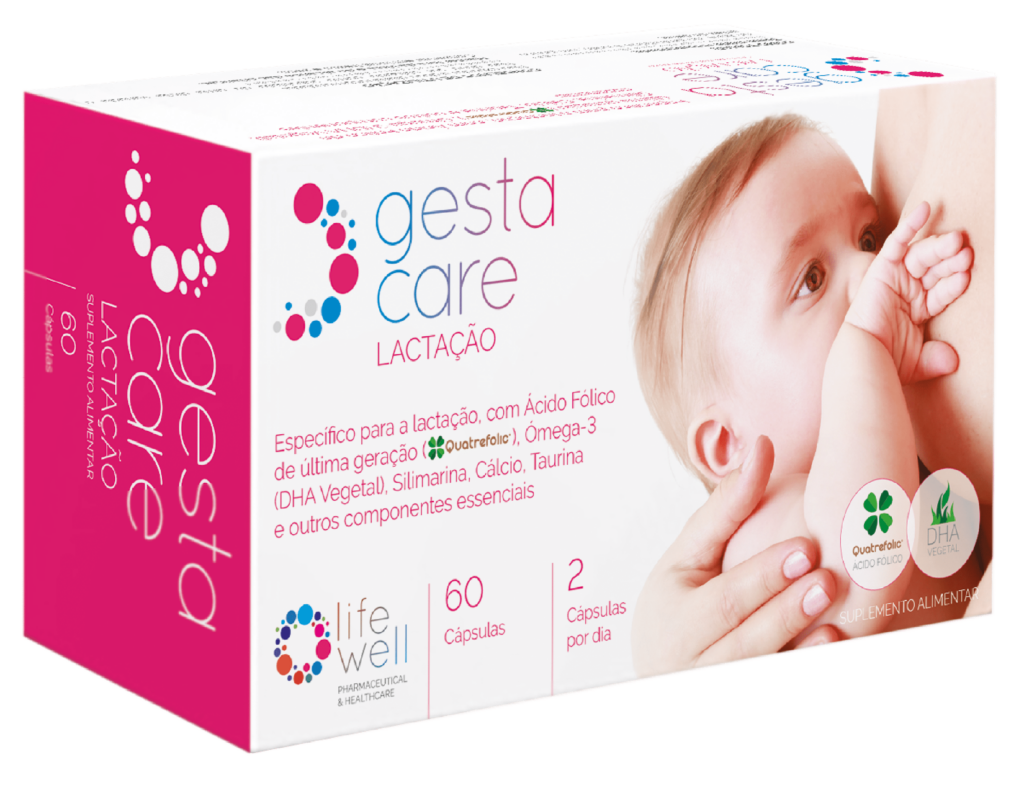 GestaCare Lactaçao
It is a food supplement with Vitamins and Minerals, enriched with biologically active folate Quatrefolic® (Folic Acid), Calcium, DHA Vegetable, Taurine and Silymarin, among other essential micronutrients, developed for adequate supplementation during the lactation period, so that the mother's nutritional status does not change by breast milk production and for the development of breast milk in optimum quantity and quality.
The importance of breastfeeding
According to the World Health Organization (WHO), breastfeeding should be kept exclusively until six months of age, when possible, followed by complementary breastfeeding up to two years of age.
Breast milk is considered the most complete food for the child. It contains all the proteins, vitamins, fats, water and others necessary for its complete and correct development. It also contains substances such as antibodies and white blood cells, which are very important for protecting your child from diseases.
Breastfeeding is also very important for the emotional development of the child, as it promotes a strong emotional connection with the mother, transmitting safety and affection to her, in order to facilitate, later, their interpersonal relationship and also contribute to the psychomotor development of the child.
For the mother breastfeeding is also very important because it has interference at various levels such as:
Contributes to the decrease in the incidence of postpartum hemorrhages and anemia.
Helps in weight recovery in the postpartum period to a weight value prior to pregnancy.
Facilitates the return of the uterus to normal size (uterine involution).
Establishes and strengthens your emotional connection with your baby.
It simplifies daily routines: it is always at the ideal temperature and is always ready to serve.
Decreases the risk of breast cancer, ovarian cancer, osteoporosis, heart disease, among others.
Delays menstruation, which can be an important factor in the spacing of pregnancies.
GestaCare Lactation - What is it?
It is a food supplement with Vitamins and Minerals, enriched with Quatrefolic (Folic Acid®), Calcium, DHA, Taurine and Silymarin, among other micronutrients, developed for adequate supplementation during the lactation period, so that the nutritional status of the mother does not change by the production of breast milk.
The lactation period is characterized by an increase in needs in vitamins, minerals and trace elements.
Adequate feeding and supplementation thus play a major role in maternal health and the development of the newborn.
GestaCare Lactation has a specific formulation that aims to compensate for the nutritional needs of women during the lactation period.
GestaCare Lactation was developed with high quality natural extracts of Cardo Mariano (Sylibum Marianum), especially indicated for mothers in the process of breastfeeding given their galactagogas properties.
It is recommended that the use of this dietary supplement be started immediately with the beginning of breastfeeding and until the end of the breastfeeding period.
The main micronutrients present in the composition of Gestacare Lactation and its functions:
The composition of GestaCare Lactation ensures the adequate supply of all the nutrients needed to meet the needs of breastfeeding women and newborns, in accordance with the latest clinical guidelines and the most current scientific evidence.
Quatrefolic
Quatrefolic (Vitamin B9, Folic Acid) is a patented biologically active folic acid that differs from
Synthetic folic acid is usually found in other supplements because it is a final form of folate that the body can immediately use without any need for metabolization, thus ensuring the recommended daily dose and preventing a potential accumulation of unmetabolized folic acid in the blood.
This new folate contributes to the normal metabolism of homocysteine, process of cell division and growth of fetal and maternal tissues during pregnancy.
Vitamin D3
Vitamin D is necessary for adequate calcium absorption. The concentration of vitamin D in milk
depends on the mother's vitamin D levels.
VEGETABLE DHA
DHA is fundamental in the development of the fetal and infantile central nervous system, as well as in reducing the risk of prematurity and postpartum depression. The DHA of plant origin in GestaCare has numerous benefits since it has a more pleasant aroma and flavor when compared to that of animal origin, as well as a high absorption capacity by the body.
Taurine
Taurine is an amino acid in breast milk that plays an important role in the neuronal development of the baby. It is also associated with protective mechanisms of the mother's skin and hair.
Silymarin
Silymarin is known for its galactagogas properties and can be used to increase breast milk production.
Other Components
Calcium, Vitamin C, Iron, Vitamin B12, Vitamin E, Vitamin B6, Vitamin A and Iodo.
Dietary supplements should not be used as substitutes for a varied diet. It is important to maintain a healthy lifestyle. Read the leaflet included in the packaging carefully. If in doubt, consult your doctor or pharmacist. Keep out of the sight and reach of children. Store in a cool, dry place. All food supplements marketed by LifeWell have been manufactured according to the best international production practices and properly examined, validated and authorized by their health authorities in Portugal.
Editorial Note: This page and all other contents presented in lifewell.pt are prepared and reviewed by medical experts in Portugal.